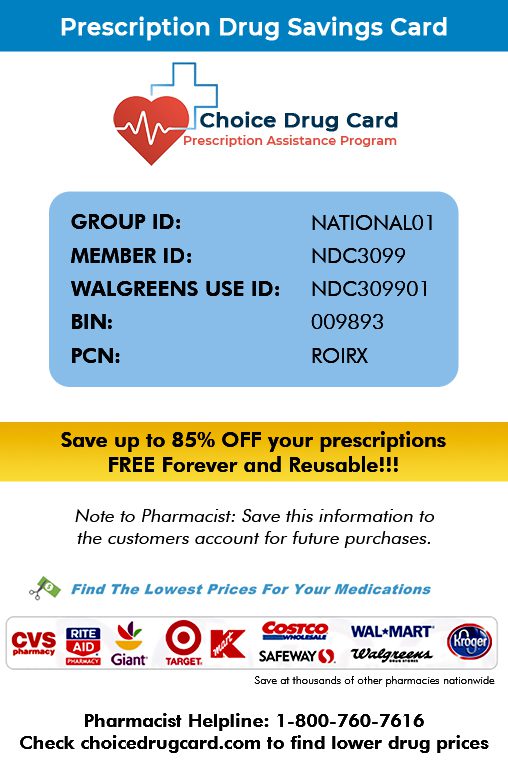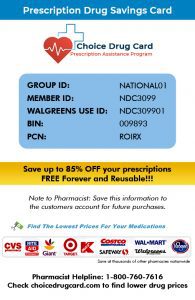 Our Free Prescription Discount Card is ready-to-use instantly.  Accepted at virtually every U.S. pharmacy, including large pharmacies like CVS, Walgreens, Rite-Aid, Kroger Pharmacy, Walmart Pharmacy, Sam's Club, Publix Pharmacy, Giant Eagle Pharmacy, Meijer Pharmacy, Target Pharmacy, Safeway Pharmacy, Costco Pharmacy, Albertsons Pharmacy, Longs Drugs, Sav-on Pharmacy, Fry's Pharmacy, Harris Teeter Pharmacy, Wegmans Pharmacy, as well as your local pharmacy.
Our FREE Prescription Discount Card provides substantial savings on Name Brand & Generic medications.
Our Prescription Discount Card is used like a coupon, is pre-activated and can be used immediately!
Present to ALL your pharmacies and have them save the information - Discount is Reusable
---
Information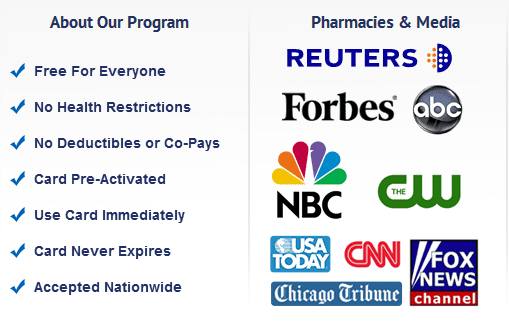 States You Can Use Our Discount Card In
Nationwide you can use our discount card to save on prescription medications.
Alabama, Alaska, Arizona, Arkansas, California, Colorado, Connecticut, Delaware, Florida, Georgia, Hawaii, Idaho, Illinois, Indiana, Iowa, Kansas, Kentucky, Louisiana, Maine, Maryland, Massachusetts, Michigan, Minnesota, Mississippi, Missouri, Montana, Nebraska, Nevada, New Hampshire, New Jersey, New Mexico, New York, North Carolina, North Dakota, Ohio, Oklahoma, Oregon, Pennsylvania, Rhode Island, South Carolina, South Dakota, Tennessee, Texas, Utah, Vermont, Virginia, Washington, West Virginia, Wisconsin, Wyoming
---
Get Your Discount Prescription Card
Instantly, for FREE Save up to 80% off your prescription medication!
Who will benefit the most include: