At Choice Drug Card, we understand the importance of quality care and ensuring patients can access their prescribed medications.
That's why we are proud to offer our discount prescription card for healthcare office use. Our cards ensure that senior citizens can conveniently obtain their medications at reduced costs right from your office.
If you're running a doctor's office, urgent care center, or any other medical facility, our Office Kit is the perfect addition to your workplace.
Choice Drug Card: What Is It?
Rising prescription drug costs are forcing uninsured Americans to make tough decisions concerning their health every single day. Our discount prescription card is the ultimate solution for those seeking to save money without compromising on the quality healthcare your medical office provides.
These cards are completely free and reusable. Any senior citizen who is uninsured or whose Medicare coverage does not include prescription medications can benefit from substantial discounts on their prescription drugs.
Everyone deserves access to affordable healthcare, regardless of their age, insurance coverage, or financial circumstances.
Our discount prescription card program is a simple and effective way to help your elderly patients save money on their medications, ultimately improving their ability to follow the treatments prescribed by your healthcare staff and enhancing their overall health.
How Your Medical Facility Can Benefit From the Choice Drug Card
By ordering our discount prescription card for healthcare office use (completely free of charge), you'll be offering your patients a valuable resource right at their fingertips.
Our cards provide substantial discounts on a wide range of prescription medications, including brand-name and generic drugs, across a vast network of participating pharmacies nationwide.
Our cards are accepted at over 70,000 pharmacies across the United States. Your patients can easily find a nearby pharmacy and enjoy significant savings on their prescriptions – and they'll be forever thankful that your medical office was the one to direct them to these savings.
Place these cards in prominent areas within your healthcare office, such as reception desks or waiting rooms, allowing patients to easily pick one up and start saving on their medications right away. If you need a card holder to contain and display your discount cards, we'll happily send you one free of charge.
Displaying Choice Drug Cards in your facility is a simple yet powerful way to demonstrate your commitment to your patients' well-being by helping them overcome the financial barriers that may hinder their ability to pursue treatment.
Request Your Office Kit Now!
Join the growing network of healthcare professionals who have selected Choice Drug Card as their trusted partner in providing affordable healthcare for their patients.
Together, we can make a difference in the lives of your patients by providing them with access to discounted prescription medications when they need them most.
Discover the power of our discount cards and start helping your patients save by ordering our Office Kit, completely free of charge.
Feel free to request a complimentary counter-top display for your desk or reception area as well!
Please complete the below form and we will send you our discount prescription card kit for you medical facility
---
If  you're business or organization needs a counter top display, we will send one free of charge.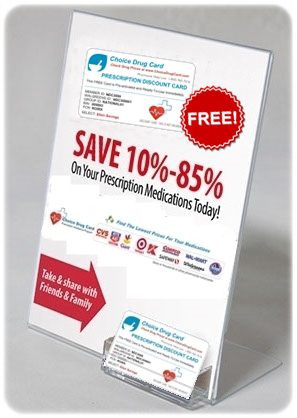 (phone verification required)